TRUE GARLIC PASTE
It is available in the standard version (see below), or in the version for food production. More information here.
Salt-free garlic paste, strong and hot – standardized
---
Thanks to our unique production process, we can offer you a garlic paste with the properties you expect from the fresh garlic, and we add a lot of benefits.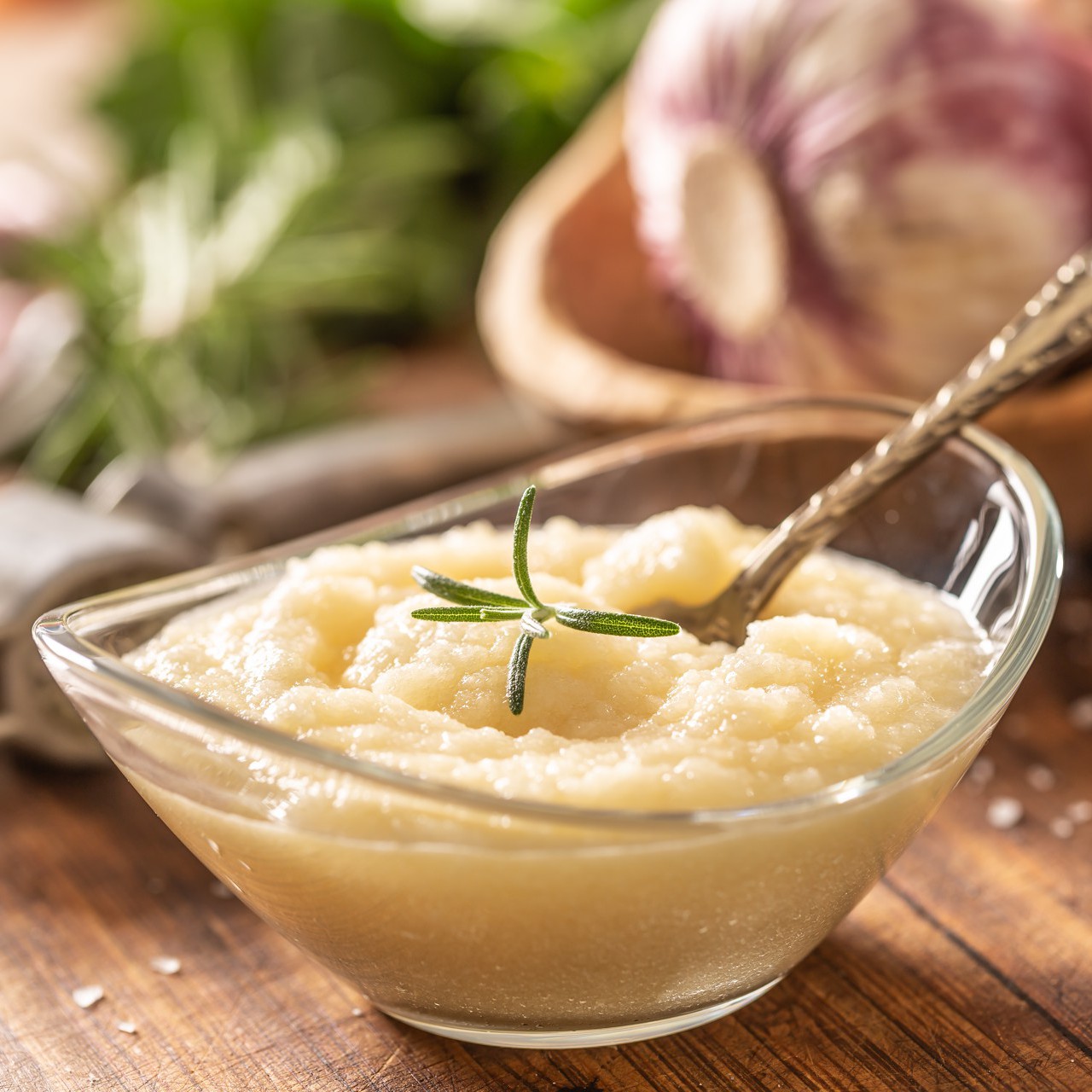 Zero waste
For 100% of the price, you get 100% of usable garlic.
No effort
You don't have to peel, slice or crush anything. Our paste is soft and easy to apply and sticks to where you need it.
Time and cost savings
If necessary, garlic is immediately available without preparation and you do not have to waste your time or the time of your employees.
Stable taste and strength all year round
During the year, fresh garlic loses its properties very quickly, so the same recipe using fresh garlic in autumn will not provide the same final taste in spring. Our paste is stable all year round with a maximum divergence of + -5%.
Use:
You can use our paste in hot and cold cuisine, in the production of sausages, smoked meat etc., meat products, dressings, marinades, salads, spreads, etc. Ingredients
Ingredients:
When choosing additives, we set ourselves a goal to choose those that are natural and have zero values on the scale of harmfulness.
These additives are used in minimum amounts and do not affect the garlic taste and aroma of the product.
Packing:
We supply garlic paste in BIB (bag in box) packages of 2l, 3l, 5l, 10l, 20l or 200l. BIB is a plastic bag with a cap made of hardened plastic with the possibility of reclosing. This bag is put into a solid cardboard box which allows easier handling and storage. The product is packaged in a protective atmosphere.
Storage:
Store the product at temperatures up to 7°C. After the first use, close the cap carefully and consume within 30 days, or until the expiration date, whichever is earlier.
Minimum expiration period:
The expiration date is printed on the label. The total minimum expiration period is 40 days from the date of production. However, after this time, the paste is not inedible. You can use it for 6 months without any problems, even if you store it at a room temperature outside the refrigerator. Nevertheless, after the 40 days we guarantee, the paste may lose its declared properties, ie the strength and hotness of fresh garlic, which would be certainly undesirable. We are currently working hard to extend this time, so keep your fingers crossed.
TRUE GARLIC PASTE – CUSTOM PRODUCTION
---
If you want to try our paste in your products, but our standardized TRUE GARLIC PASTE does not suit you for some reason, do not hesitate to call 00420 602 546 993 (Mr. Mikulka). Everything can be solved by individual discussion and custom production according to your requirements.